First, congradulations to Prince Charles and Camilla Parker Bowles!
OK, now back to important business- the oh so important wedding dress of course. Apparently, Camilla had six outfit fittings and 10 hat fittings, and a final dress rehearsal before settling on the final dress.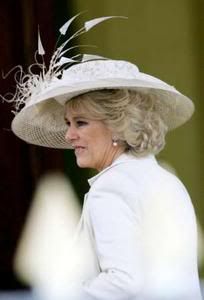 Hat by Philip Treacy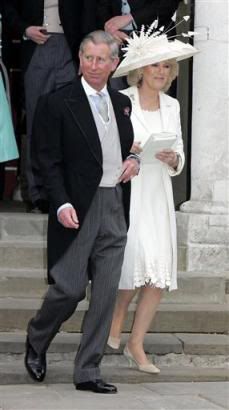 Outfit by Robinson Valentine. The color is described to be oyster, and the dress is soft. We think this is the perfect outfit for this wedding, and she looks beautiful.
The now Duchess of Cornwall has had many outfits made by the label, Robinson Valentine in the past five years, so they are familiar with dressing Camilla.
"It's very elegant. It definitely suits Mrs Parker Bowles and she feels relaxed in it. It's been quite easy because we've made clothes for [her] before and we know what suits her," said Valentine.
Label History of Robinson Valentine
Antonia Robinson and Anne Valentine met at a pattern cutting course in 1985 and established the label, Robinson Valentine in 1986. In 1990, they created their first collection, which consisted of 10 pieces. In 2002, they launched the first Robinson Valentine wedding dress collection. Now that they have designed a wedding dress for a ROYAL WEDDING, the label will be heading for a greater global presence.