Despite the changes in fashion every year, capris will always be around for those uncomfortable with shorts but still want to look the season or just want something different. For clarity purpose, by capris, I mean 3/4 pants just below the knee, because otherwise it IS a bit confusing when pants come in all shapes and lengths these days. This season, the capris will still be around-but with a lot more attitude!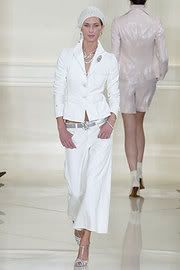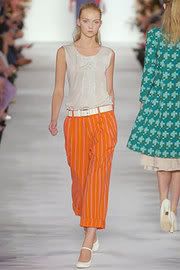 The absolute KEY to this season's capris is loose and stylishly tailored too. Like this white capris by Ralph Lauren and this orange striped capris by Marc Jacobs, both are loose but emaculately cut. The contrasting colored belts on each model serves to emphasize the slim waist despite all the looseness, giving it some shape. Also note how the Marc Jacobs capris are folded up to give it some layer and dimension.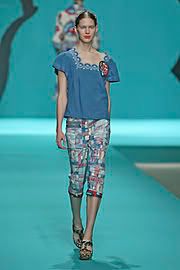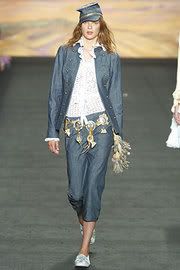 Color and embellishment are also important. Color like this multicolored Cacharel capris. And embellishment like this Anna Sui capris with its heavily decorated charm belt.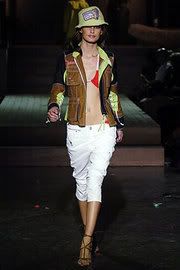 For a more daring style, there is also the slimming but scruched up like this white one from D Squared 2. Or this loosely done but tight at the bottom capris by Emma Cook. When properly matched up, perhaps with something of a more street-like material like denim and heels, I am sure this won't look like a part of your pajamas.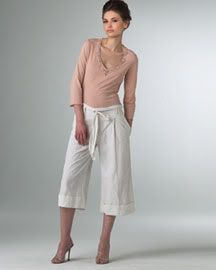 Off the runway, this loose but very well tailored white capris by Robert Rodriguez is perfect. They are even folded up already!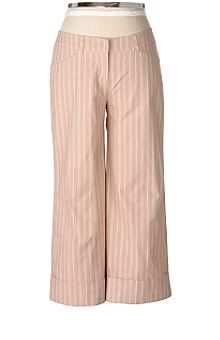 Or these pink striped capris from Anthropologie, they too are folded. The pink also gives it a more feminine and ladylike quality.
Most importantly when wearing capris though is that unless you are a super model or are super tall, PLEASE don't wear capris with sneakers. They make you look short and stumpy. Pair them with heels to look glam or flats and sandals for a more casual look.