A few years ago, while randomly cruising the shops at Landmark (a very good shopping mall in hk) with my mom we came across Dries Van Noten, and I was instantly intrigued. Inside the gloomy and minimal exterior of the shop was an array of distinctively unique and feminine pieces. The voluminous skirts, the subtle floral embroideries and patterns, as
vogue.co.uk
puts it, it was as if "you were rummaging through your grandmother's trunk in the attic."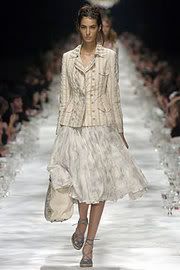 Dries Van Noten is a Belgium fashion designer who comes from three generations of tailors. Fashion was clearly in the blood. Although his designs appear to be very "of the moment" right now, with all his floral patterns and poofy skirts, he has in fact been doing this for the longest time. Having carved himself a niche in the fashion world, Dries Van Noten is not one to bend to the rigid rules and is instead commited to creating

individual

and

intimate

unique pieces

. Here are some more photos from his Spring/Summer 2005 runway: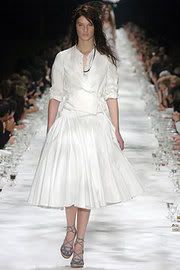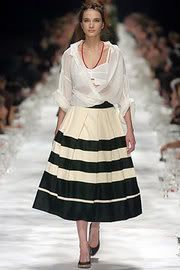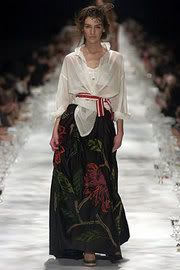 Don't you just LOVE those voluminous skirts and that very romantic long floral skirt? Also note how the guests are sitting and the runway. The runway is actually the table where the guests had sat for dinner at a cavernous factory on the outskirts of Paris. To celebrate his 50th collection, the guests also recieved a signed scrapbook of his last 50 collections with a polaroid image of the chandelier the guest was sitting under. Talk about being unique and intimate!
Sigh. . what I wouldn't give to have been there. . .